At My Choice Wisconsin, our staff regularly receive uplifting emails from our Member Advisory Committee. These feel-good messages make our week and we're pleased they have agreed to include you in sharing their positive thoughts!
On February 23, we, the Member Advisory Committee, proudly presented the first three Arlyn Doehler Acorn Awards.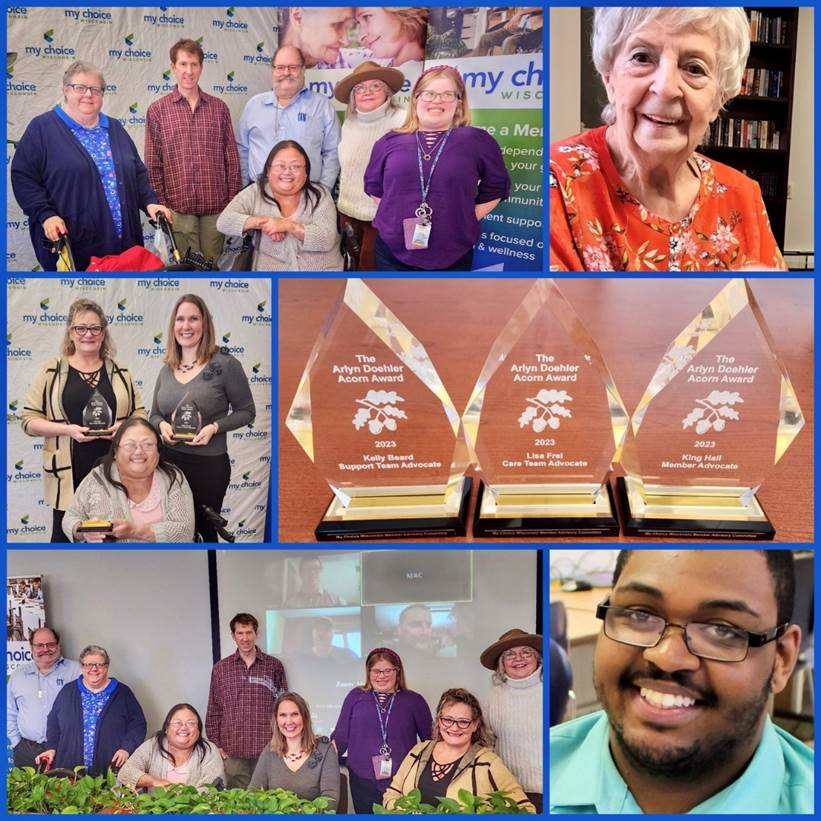 Who was Arlyn Doehler?
Arlyn was one of the first people to join the state of Wisconsin's Family Care program in January of 2001. She served faithfully on both the My Choice Wisconsin Board of Directors and the Member Advisory Committee (MAC) until her death in March of 2022 at the age of 91. Arlyn was one of a kind. She was an avid advocate who believed in Family Care and the work of My Choice Wisconsin. Arlyn knew first-hand how both benefitted senior citizens and those with disabilities who needed long term care. It became her mission to let everyone in Wisconsin know too. The MAC decided to honor the life of this amazing woman by creating an award to be given out annually in her memory to three outstanding advocates at My Choice Wisconsin: one a support staff person, one a care team staff person and one a MCW member who serves on one of the MCW committees.
Why the Acorn Award?
Arlyn loved using metaphors and allegories in conversation. She often would fondly compare My Choice Wisconsin to a big strong oak tree, offering protection and shelter to those in need: broad branches stretching out to welcome and sturdy, deep roots that provide connection. Yet the powerful oak tree starts from a small acorn. Arlyn liked to think of herself and other long-term care advocates as the acorns that contributed to the growth and strength of MCW.
The MAC will be giving out these awards to three outstanding MCW advocates each year. This year the MAC presented the first three Arlyn Doehler Acorn Awards to individuals that worked closely with Arlyn and embody the "acorn" spirit:
Kelly B., Executive Assistant, Support Team Advocate
Lisa F., Care Manager, Care Team Advocate
King H., Member Advisory Committee, Member Advocate