At My Choice Wisconsin, our staff regularly receive uplifting emails from our Member Advisory Committee. These feel-good messages make our week and we're pleased they have agreed to include you in sharing their positive thoughts!
Bucks in 6!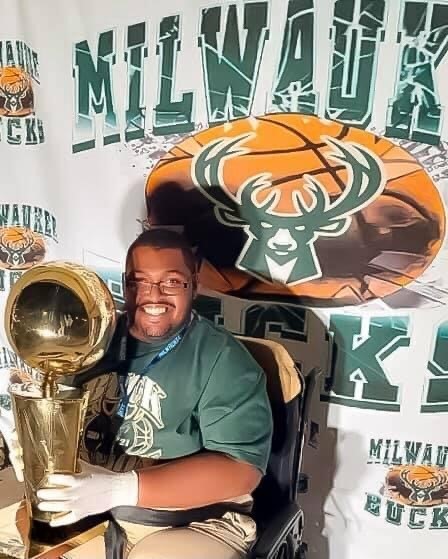 Most of the state has been celebrating the Milwaukee Bucks historic win on Tuesday evening, bringing home the NBA Championship to Wisconsin for the first time in 50 years. We on the MAC are big Bucks fan and have been cheering them on throughout the playoffs. Whether you are a fan or not, we hope you have been enjoying the way the playoffs and championship win have brought people in the state together in a way we haven't seen as of late.
One MAC member had the opportunity of a lifetime on Tuesday evening… No, your eyes are not deceiving you: that is our own member, King of the My Choice Wisconsin Member Advisory Committee, holding the championship trophy!
King has been in the Deer District for every playoff game. A chance pre-game meeting on Tuesday with the staff who are in charge of the trophy landed the charismatic King a chance to hold it. As you can see, he had to wear white gloves to prevent leaving any marks before the trophy presentation. It was a once in a lifetime opportunity for a diehard fan like King!
We hope this brings a smile to all your faces today. It's a beautiful reminder that the work that our employees do each and every day to support our members make a moment like this possible.