At My Choice Wisconsin, our staff regularly receive uplifting emails from our Member Advisory Committee. These feel-good messages make our week and we're pleased they have agreed to include you in sharing their positive thoughts!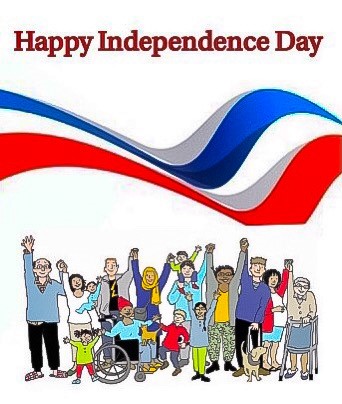 We are coming up to the holiday weekend that marks the 4th of July or Independence Day. At our monthly committee meeting, we discussed what INDEPENDENCE means to each of us. For some of us it meant talking about the country, for some the actual holiday, and for others the word triggered a much more personal reflection. Here is a sample of what was shared:
Savanna: "Independence means I can advocate for myself. It means I am confident."

Lynn: "It means FREEDOM! To not be controlled."
Chad: "I think of the founding of our country and all the soldiers who sacrificed to serve and protect us. I especially think of those who lost their lives protecting us."
Barry: "Independence means we have certain rights but we also have certain responsibilities as well. It's not just about my rights, I must respect the rights of others."
Melissa: "I think about going to our cabin and being with my family and my dog. It's about being with those I love."
King: "I think about being able to work and go to school."
Patrick: "When I think of independence, I think of our history of our country. I think of those who keep us safe, like soldiers, policemen, and firemen."
Dee: "Independence is my freedom – it's a right given to me by those who came before me and fought for it and my responsibility to hand to those who come after me so they can live freely."
 However you plan to celebrate this holiday weekend, as celebration of country or family or your personal freedom or some combination of all three, the Member Advisory Committee wishes you a Happy Independence Day. Stay safe, relax and have fun!