At My Choice Wisconsin, our staff regularly receives uplifting emails from our Member Advisory Committee. These feel-good messages make our week and we're pleased they have agreed to include you in sharing their positive thoughts!
Today's good news shout out celebrates our member, Mattie and her volunteer guardian, Alice. Theirs is a story about possibilities. Mattie and Alice met when Mattie was still living at the state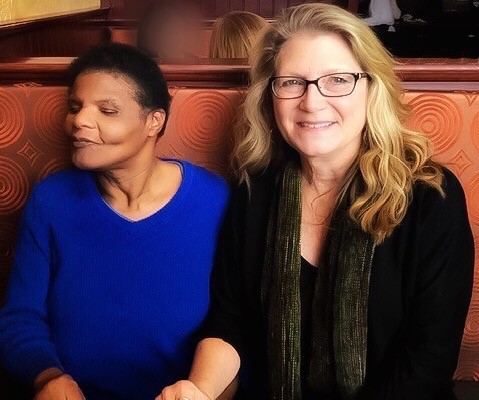 institution, Central Center, and Alice was a student at UW-Madison. Alice saw abilities in Mattie where many others only saw limitations (Mattie is blind, deaf, does not speak, and has intellectual disabilities); Alice saw possibility. Alice was instrumental in developing a tactile communication board for Mattie to communicate. She also taught Mattie a number of tactile signs. Alice is now a professor at UW-Madison. Alice has always been an advocate for Mattie ever since they met, but became her guardian when Mattie moved from the state institution to a group home in Milwaukee well over 20 years ago. Here is a picture of Mattie and Alice doing what they enjoy doing together the most – going out to eat.
One of the amazing things about Mattie is that she has always worked in Competitive Integrated Employment (CIE.) She has worked with Creative Employment Opportunities (CEO) since moving to Milwaukee. CEO saw Mattie's abilities rather than her limitations as well. Mattie was a valued employee at the Pizza Hut in south Milwaukee for well over 15 years. She only left Pizza Hut when the group home on the southside where she was living closed and she had to move to the northwest side of Milwaukee. CEO then worked to find her a new job. Mattie has now been working for a number of years for the Menomonee Falls School District. Mattie assists with mailings, assembling files, deconstructing nonactive files, assembling IEP packets, and labeling. Mattie teaches us what is possible when people see the gifts and abilities in our members.
With COVID-19 school closures, Mattie did not get to work for much of 2020. But Mattie started back to work at the school district with her job coach from CEO early in February of this year. Kudos to her current Care Team – Care Manager Matthew and Registered Nurse Kristen.
Alice told us that Mattie hopes to get back to some of her other passions that have been put on hold due to COVID like swimming at the YMCA and beading. Mattie also hopes she can go back soon to activities with the Center for Deaf-Blind Persons.
Thanks Mattie and Alice for sharing your story and reminding all of us to focus on abilities not limitations, to see the possibilities!