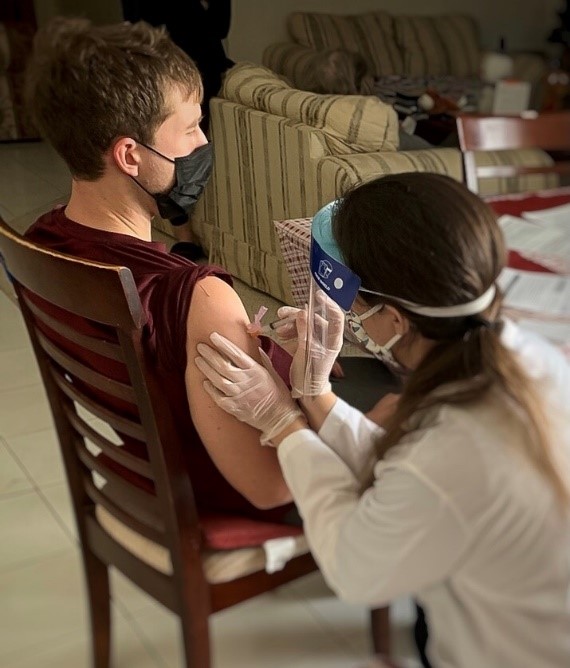 At My Choice Wisconsin, our staff regularly receives uplifting emails from our Member Advisory Committee. These feel-good messages make our week and we're pleased they have agreed to include you in sharing their positive thoughts!
I think we can all agree that this kind of photograph we all want to see more of in the next few weeks, the next few months – a My Choice Wisconsin member getting their first dose of the COVID-19 vaccine.
Chad from our Member Advisory Committee shared this picture. His group home in Madison arranged for the shots to be brought directly to the group home and all the group home residents received their first vaccine dose at the same time.
Chad was happy, grateful, and proud to talk about his experience: "I'm so glad I had this opportunity. I worry about my 82 year old Grandma and my Dad who has COPD (chronic obstructive pulmonary disease). It's great to know that I'm doing this not only to keep myself safe but them safe too. I know we all still need to be careful even if we are getting the vaccine. We all still need to wear our masks, wash are hands and keep social distancing. We still have a ways to go yet."
Chad has some advice for any of our members who you might be talking to who are still unsure about getting the vaccine. "It's okay to do this. This is going to help you not get sick. I hardly felt the shot at all and I had no side effects except for a sore arm the next day. A small price to pay to try to end this pandemic. Getting the vaccine isn't going to just help you it's going to help all of us. Please talk to your doctor if you have any concerns."